Have you ever wondered if it is possible to get the job of your dreams? Or how to get hired by the company of your dreams? There are many different questions you may ask yourself: what career will make you the happiest, and what type of work will lead to the greatest happiness? The good news is that there is a way to get hired by the company of your dreams! Here are some tips to help you get started.
Is it possible to get your dream job?
In today's world, having the proper college degree does not guarantee that you'll be able to land a dream job. More qualified, ambitious, and talented individuals graduate every year, and a college degree is no longer a guarantee of success. There are three rules to getting the job you've always dreamed of. Follow them and you'll be well on your way to getting your dream job.
Research the requirements for the position you want to land. Do you need a certain license or certification to work in that field? Many jobs have specific educational requirements. Research these requirements before applying. In some cases, you may need to complete a specific degree, work in the field, and pass an exam. You may also need to earn additional degrees or credentials if you want to change careers significantly. However, there are many ways to ensure you get the job you want.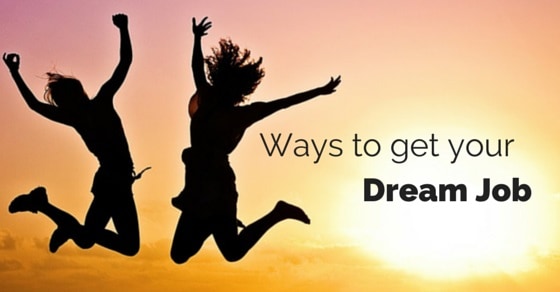 Network with colleagues and industry leaders. Find people with similar experiences and skills and reach out to them for help. Make use of social media such as LinkedIn and school alumni listings to find people with similar qualifications. Alternatively, try looking for smaller companies. According to the U.S. Department of Labor, there are 14 million companies with 50 or less employees. If you are persistent, you'll find a job that meets your specifications and desires.
How do you get hired by a dream company?
To land the job you've always wanted, you should be aware of how to get hired by your dream company. You can do this by tailoring your resume to appeal to various companies. Different companies may value your experience more than your educational background. So, make sure your resume highlights your strengths, focuses on your competencies, and addresses the company's values. Make the dream company realize that you're the perfect employee!
A dream company pays well. It's not the highest-paying company in the world, but the pay is aligned with your financial needs and goals, and you feel like you're being paid fairly. A dream company will provide resources to develop its employees, and they'll train them for higher-paying roles with more responsibilities. Besides, dream companies will recognize the value of their employees and give them recognition regularly.
What job will make me the happiest?
If you're wondering what type of job would be the most fulfilling, you might consider changing careers. Jobs in technology are always in demand, and are also highly-paid. If you're interested in switching careers, look for a company that values employee well-being. In general, happy employees report high job satisfaction. Listed below are some examples of jobs that will make you happy. If you're not sure what type of job to look for, consider looking into training programs.
The answer to the question "What job will make me the happiest?" depends on the individual and their attitude. People who enjoy their work are generally happy, but those who are unhappy in their jobs will not be content. In addition to having a happy attitude, people with happy jobs are also generally successful in their careers. Happiness is often correlated with the right work-life balance, good relationships with coworkers, competitive compensation, career development opportunities, and constructive company cultures. The key to finding happiness at work is to look for work you love and are passionate about.
What career is best for me in the future?
One important question to ask when deciding on a career is "How many job openings are there in this field?" Some fields are more likely to have job openings than others, and some are less likely to have them. While many professionals and tradespeople are in high demand today, their opportunities are likely to continue over the next few decades. Other types of workers are on the forefront of technological and cultural changes, and their opportunities may not be widely available today, but could be in the future.
Next, consider what kind of jobs interest you the most. For example, you may find that you enjoy interpreting data, creating presentations, or working in a team. These factors will help you determine what type of job would be best for you. Once you know what you enjoy doing, it will be easier to decide which career path is best for you. In addition, you can also use online resources to help you narrow down your choices.
How I find my dream job with no experience?
It's very possible to get your dream job without any experience if you know the right people. LinkedIn is an excellent platform for connecting with other people in your target trade. Often past jobs can serve as proof that you possess the skills your dream job requires. For instance, a job in a bar can help you demonstrate your skill in customer service, negotiation, and organisation. You can also show employers that you have the necessary qualifications and experience by volunteering for an internship at a local cafe or bar.
You should be willing to take an online course or two. Online courses offer you the opportunity to learn new skills in a short time, and some even offer free trials. Certain industries and topics have specific certifications, such as software developer and data scientist. You may also consider coding bootcamps, which are online courses that teach a specific skill. You'll be able to find a job that pays well and is relevant to your skills.
How do I find what my passion is?
You may have a talent for teaching or working with people, but you may be missing out on the chance to land your dream job because you don't know what your passion is. Passion is something you get pleasure from doing, not a skill. You must know your values to find what you really love doing. Try to brainstorm what's most important to you in life and find what aligns with those values.
Try to make time for your passion. If you love a particular activity or adventure, try to find a way to fit it into your schedule. Block out a couple of hours every week to spend on your passion. It will help you create a satisfying life. If you find your passion, you'll never be unhappy in your job. It's a great way to improve your work/life balance, too!
If you're not sure what you're passionate about, start small. Look around your home or look online. Talk to people you admire and see what they do. If you can't find any in your current job, try a hobby first to determine what it is you want to do in the future. Your passion will lead you to the job of your dreams. There's no such thing as too much practice!
How can I work for Google?
There are numerous ways to land a job at Google, including applying online. You can find a job posting on LinkedIN or from an employee referral. Google also conducts recruitment drives and calls potential candidates for interviews. They also visit colleges to organize placement programs, and hold the APAC Test for programmers in the Asia Pacific region. You can also compete with top competitors for technical jobs at Google. But there are certain steps you should take to make sure you get noticed by Google.
First of all, try to find people who work at Google. You can also send emails to these people, or call them if you have a phone number. Google likes to recruit flexible, highly skilled people. If you can't find a suitable person, you can try to find someone who is in charge of hiring people. However, remember that sending emails to the wrong people will only get your message deleted.